NON-FORMAL EDUCATION OF EDUCATORS IN MEDIA CENTERS OF LEADING EUROPEAN COUNTRIES: EDUCATIONAL AND METHODOLOGICAL ASPECT
Keywords:
curriculum of educators' media education, educational and methodological materials, media centers, non-formal and informal media education of educators
Abstract
Media literacy is recognized as a basic, vital skill for European citizens. It must be formed during life, at all stages of personality development. That is why we have chosen the leading European countries such as Finland, Sweden, France, Germany, the United Kingdom and Spain to analyze the current state of media education. Europe should be at the forefront of media literacy, as historically this region of the world has become the cradle of media civilization, a center for coordinating discussions of philosophical, cultural and technical development of the media.
The article deals with the analysis of educational and methodical support of the European system of educators' media education. The importance of media education of educators as the greatest agents of direct educational influence on the younger generation, whose media education is a requirement of the time, is revealed. The need for the development of non-formal and informal media education of educators is identified, as the media component can take place in any lesson and in extracurricular activities. Common components of the organization system of this process (participants, content, forms, methods, tools) are identified and educational and methodological resources are described, which are publicly available and can be useful to educators regardless of country of residence, citizenship or language.
As a result of the research, we made the following conclusions: specialized centers offer a wide range of short-term training courses for teachers of various topics; forms of professional development in media education of teachers are different (distance courses, trainings, seminars, workshops, conferences, educational films, etc.); modern scientific, educational, methodical literature for teachers is available (monographs, professional journals, lesson plans, information packages); non-formal and informal preparation of teachers for media education activities is diverse in content, forms, means and methods, but remains fragmentary, not systematic, which does not allow to solve our issue comprehensively, and therefore it needs further development and critical analysis.
References
Calvo, S. T. (2014). Guía de tecnología, comunicación y educación para profesores: Preguntas y respuestas. Media Literacy. Pérez Tornero, J. M. & Tejedor, S. (Eds.) UOC.
European Parliament Resolution of 16 December 2008 on Media Literacy in a Digital World (2008). European Parliament. https://www.europarl.europa.eu/sides/getDoc.do?pubRef=-//EP//TEXT+TA+P6-TA-2008-0598+0+DOC+XML+V0//EN
Data & Society. https://datasociety.net/
Éducation aux médias et à l'information. École, college, lycée (2020). https://www.clemi.fr/fileadmin/user_upload/Brochures/EMI_2020/CLEMI_Brochure2020_web.pdf
Emedus Study. European Media Literacy. http://www.cecs.uminho.pt/projetos/emedus-european-media-literacy-education-study/
Fez declaration on media and information literacy (2011). United Nations Educational, Scientific and Cultural Organization (UNESCO). http://www.unesco.org/new/fileadmin/MULTIMEDIA/HQ/CI/CI/pdf/news/Fez%20Declaration.pdf
Gutiérrez, A. F., Rodríguez-Hoyos, C., Pérez Tornero, J. M. (2015). Los territorios de la educación mediática. Experiencias en contextos educativos. UOC.
Into Film. https://www.intofilm.org/training
Mediakasvatus pähkinänkuoressa (2017). Mediakasvatusseuran julkaisuja, 3. https://mediakasvatus.fi/wp-content/uploads/2019/11/SELKO-mediakasvatus-p%C3%A4hkin%C3%A4nkuoressa.pdf
Le centre pour l'education aux médias et a l'information. https://www.clemi.fr/
Mediaculure-online: Platform for school and extracurricular education (Das portal zur schulischen und ausserschulischen medienbildun). https://www.lmz-bw.de/medien-und-bildung/mediaculture-online/
Media literacy versus fake news: critical thinking, resilience and civic participation. http://mlfn.cemp.ac.uk/
Medienpädagogik. https://www.bpb.de/lernen/digitale-bildung/medienpaedagogik/
Merz | medien + erziehung ... https://www.merz-zeitschrift.de/
Mind Over Media in EU. https://propaganda.mediaeducationlab.com/
Palsa, L. (2019). Tajuukskukaan – mitä mediakasvatuksella tavoitellaan. https://kansanvalistusseura.fi/wp-content/uploads/2018/05/Palsa_Kesyt%C3%A4-media_Tajuuks-kukaan.pdf
Wilson, C., & Duncan, B. (2009). Implementing Mandates in Media Education: The Ontario Experience. In Frau-Meigs, D. & Torrent, J., (Eds.) Mapping Media Education Policies in the World (pp. 127–140). UN-Alliance of Civilizations; Grupo Comunicar.
Wilson, C., Grizzle, A. et al. (2011). Media and Information Curriculum for Teachers. UNESCO.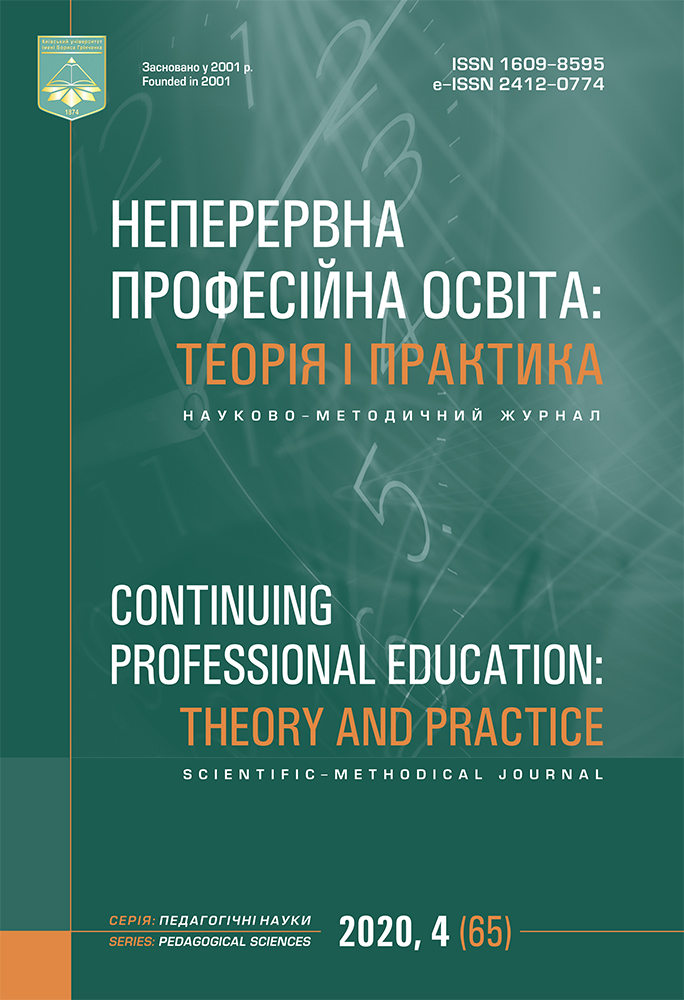 Downloads
How to Cite
Horbenko, H., Fruktova, Y., & Hondiul, O. (2020). NON-FORMAL EDUCATION OF EDUCATORS IN MEDIA CENTERS OF LEADING EUROPEAN COUNTRIES: EDUCATIONAL AND METHODOLOGICAL ASPECT. Continuing Professional Education: Theory and Practice, (4), 103–109. https://doi.org/10.28925/1609-8595.2020.4.13
Section
CONTINUING PROFESSIONAL EDUCATION: FOREIGN EXPERIENCE
License
Copyright (c) 2020 Horbenko Halyna, Yana Fruktova, Oleksandra Hondiul
This work is licensed under a Creative Commons Attribution-NonCommercial 3.0 Unported License.

Licence Creative Commons Attribution-NonCommercial 3.0 Unported (CC BY-NC 3.0)