USE OF SCRIBING AND SKETCHNOTING TECHNOLOGIES IN THE EDUCATIONAL PROCESS
Keywords:
doodle, facilitation, scriber, scribing, scribe-presentation, sketch, sketchnoting, sketchouting models, types of scribing, visualization
Abstract
The article is devoted to the use of scribing and sketching technologies in the educational process as visualization technologies. It is proved that in the conditions of total environment with modern information technologies and large information flows and formation of clip thinking in students, visualization that takes into account these cognitive features promotes understanding, mastering and memorization of educational material, improves learning and communication skills, increases motivation, learning, and promotes critical thinking; keeps the attention of the individual on key points, makes him an active participant in the educational process. The advantages and disadvantages of using scribing technologies in the educational process are summarized. The types of scribing and possible variants of their use are researched and analyzed. Among them are painted, application, magnetic, flannel, which involves the use of flannel (carpet linograph). technologies for using special programs or online services to create online scribing (computer, animation, video scribing) is emphasised. Scribbing facilitation is singled out, which involves the translation of information from verbal to visual form. Attention is paid to the study of the positive impact of visualization on the assimilation and comprehension of material through sketching technologies: they increase student involvement in learning, encourage more effective strategies and promote key skills, including creative thinking, communication and skills to build and present knowledge. The main models of sketchouting and their variants of use are investigated: linear, vertical, radial, modular, trajectory, skyscrapers or columnar, popcorn.
References
Androshchuk, I. V; Androshchuk, I. P. (2019). Scribing as a means of enhancing the educational process in secondary school. Information technologies and learning tools, 72 (4), 67–80. https://doi.org/10.33407/itlt.v72i4.2602
Babenko, O. M., Kharchenko, Yu. V. (2019). Vprovadzhennia skraib-prezentatsii u protsesi vyvchennia khimii v 9 klasi [Introduction of scribal presentations in the process of studying chemistry in grade 9]. Aktualni pytannia pryrodnycho-matematychnoi osvity, 2 (14), https://doi.org/98–104. 10.5281/zenodo.3669079.
Bilousova, L. I., Zhytienova, N. V. (2016). Vizualizatsiia navchalnoho materialu z vykorystanniam tekhnolohii skraibinh u profesiinii diialnosti vchytelia [Visualization of learning material usingtechnologies of skribing in teachers'professional activities]. Fizyko-matematychna osvita, 1 (7), 39–48.
Deviat pryiomiv vizualizatsii dlia vykorystannia na urotsi [Nine visualization techniques for use in the lesson] (2018, August 5). Na Urok. https://naurok.com.ua/post/9-priyomiv-vizualizaci-dlya-vikoristannya-na-uroci
II Vseukraynskyi skraibynh fest [II All-Ukrainian scribing fest] (2016). https://osvita.ua/school/scribing/
Karpushkina, N. (2019, January 28). Sketchnoutynh: vizualizatsiia idei [Sketchouting: visualization of ideas]. Informacijno-tehnologichnij suprovid suchasnogo uroku. https://280102022019.blogspot.com/2019/01/blog-post_28.html
Koshkyna, L. M. (2015). Skraib-prezentatsyia [Scribe presentation]. Uchytelskyi Zhurnal on-lain. http://www.teacherjournal.ru/skrajb-prezentacziya.html?start=12
Mileiko, O. V. Formuvannia komunikatyvnykh navychok shkoliariv na urokakh anhliiskoi movy za dopomohoiu IKT [Formation of communicative skills of schoolchildren in English lessons with the help of ICT]. Infourok. http://infourok.ru/maysterklas-formuvannya-komunikativnih-navichok-shkolyariv-na- urokah-angliyskoi-movi-za-dopomogoyu-ikt-544125.html.
Morhunova, N. S. (2019). Skrajbing yak innovacijnij sposib vizualizaciyi informaciyi u procesi movnoyi pidgotovki inozemnih studentiv [Scribing as an innovative method of visualizing information in the process of language preparation of foreign students]. Innovacijna pedagogika, 19 (2), 172–175. https://doi.org/10.32843/2663-6085- 2019-19-2-37
Oreshko, M. A. (2013). Skraibynh: rysuem prezentatsyiu po ynteresnыm knyham s podrostkamy-chytateliamy [Scribing: we draw a presentation on interesting books with teenage readers]. Shkolnaia byblyoteka: sehodnia y zavtra, 2, 49–53.
Iatsenko, N. Ia. (2018). Sketchnoutynh i komiksy na urokakh ukrainskoi movy ta literatury. Vizualizatsiia idei [Sketchouting and comics in lessons of Ukrainian language and literature. Visualization of ideas]. Vyvchaiemo ukrainsku movu ta literaturu, 12, 2–6.
Yarmoshchuk, О. О., Vasyliuk, V. M., Demchuk, O. О. (2017). Vikoristannya skrajbingu yak aktivnogo metodu navchannya na zanyattyah zi studentami specialnosti «Fizichne vihovannya» [Scribing as an active method of teaching physical education students]. Aktualni problemi pedagogiki, psihologiyi ta profesijnoyi osviti, 1, 29–35.
Atashpendar, A., Grévisse, C., Rothkugel, S. Enhanced sketchnoting through semantic integration of learning material (2019). Communications in Computer and Information Science, 1051 CCIS, 340–353. https://doi.org/10.1007/978-3-030-32475-9_25
Mendonca, P. (2016). Graphic facilitation, sketchnoting, journalism and «The Doodle Revolution»: New dimensions in comics scholarship. Studies in comics, 7 (1), 127–152. https://doi.org/10.1386/stic.7.1.127_1
Osinska, V., Osinski, G., Kwiatkowska, A. B. (2015). Visualization in Learning: Perception, Aesthetics, and Pragmatism. In A. Ursyn (Ed.), Handbook of Research on Maximizing Cognitive Learning through Knowledge Visualization (pp. 381–414). IGI Global. https://doi.org/10.4018/978-1-4666-8142-2.ch013
Paepcke-Hjeltness, V., Hetherton, L., Grote, H. (2018). https://www.scopus.com/record/display.uri?eid=2-s2.0-85057764274&origin=resultslist" target="_blank">A visual voice, sketchnoting for engineers. Proceedings of the 20th International Conference on Engineering and Product Design Education (E&PDE 2018), 578–584.
Paepcke-Hjeltness, V., Mina, M., Cyamani, A (2017). Sketchnoting: A new approach to developing visual communication ability, improving critical thinking and creative confidence for engineering and design students. Proceedings – 47th IEEE Frontiers in Education Conference, FIE 2017. https://doi.org/10.1109/FIE.2017.8190659
Rohde, M. (2013). The sketchnote handbook. Peachpit Press.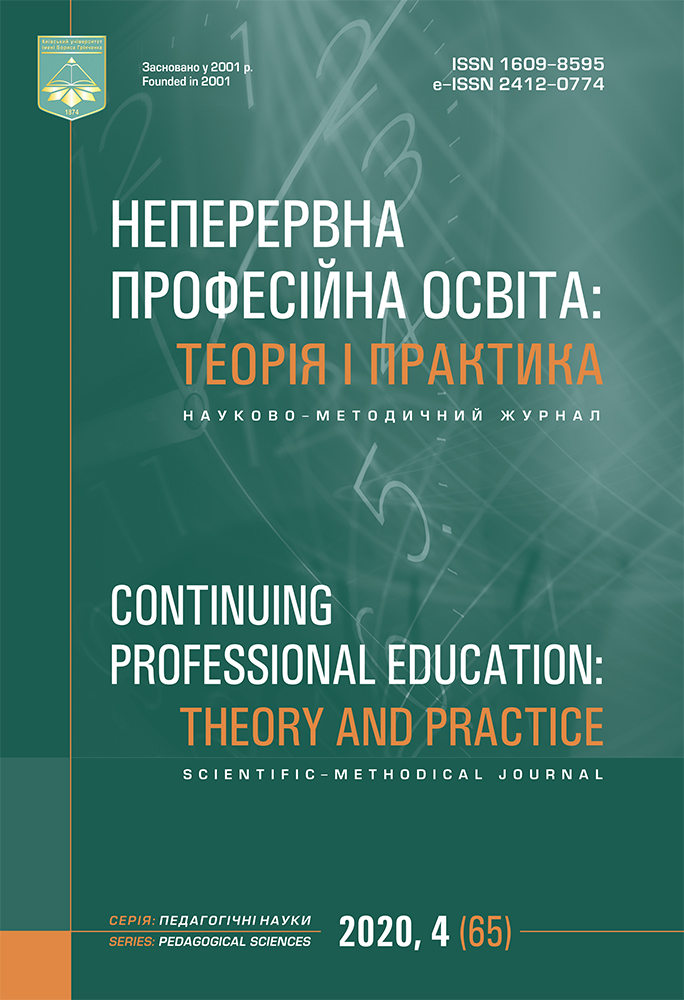 Downloads
How to Cite
Myagkova, O. (2020). USE OF SCRIBING AND SKETCHNOTING TECHNOLOGIES IN THE EDUCATIONAL PROCESS. Continuing Professional Education: Theory and Practice, (4), 90–95. https://doi.org/10.28925/1609-8595.2020.4.11
Section
INFORMATIZATION OF CONTINUOUS PROFESSIONAL EDUCATION
License
Copyright (c) 2020 Olha Myagkova
This work is licensed under a Creative Commons Attribution-NonCommercial 3.0 Unported License.

Licence Creative Commons Attribution-NonCommercial 3.0 Unported (CC BY-NC 3.0)