CHARACTERISTIC OF A STUDENT IN EXPERIMENTAL PEDAGOGY BY O. NECHAEV AND G. ROSSOLIMO
Keywords:
experimental pedagogy, Grigory Rossolimo, layout of a profile, Olexandr Nechaev, pupil's profile
Abstract
In the article, based on the analysis of the works of scientists – the representatives of experimental pedagogy Olexandr Nechaev (1870–1947) and Grigory Rossolimo (1860–1928), their contribution to the development of the problem of the pupil's profile is highlighted. It has been proved that both scientists paid special attention to this issue, developing it in the following aspects: substantiation of the necessity of studying a pupil by the teacher and improvement of psychological knowledge of the teacher (O. Nechaev); creation of plans for studying the pupil in the form of special questionnaires with detailed recommendations on their use (O. Nechaev, G. Rossolimo), filling out the results of studying the pupil in the form of «psychological profile», which was a graphic representation of the profile (G. Rossolimo). It has been substantiated that, developing a problem of the pupil's profile, O. Nechaev proceeded from the need to take into account the individual abilities and inclinations of the pupil in the educational process, which could be effectively carried out on the basis of studying the pupil with the subsequent compilation of the pupil's profile. It has been well-reasoned that relations between scientists were significant in the development of scientific ideas: G. Rossolimo linked the emergence of his method of «psychological profile» directly with the ideas of O. Nechaev. It has been emphasized that the psychological characteristics of various types given by Rossolimo were his contribution to the typology of childhood, along with the typology of P.
Lesgaft. These typologies are a significant help to the teacher in the process of learning the pupil and compilation of his profile. It has been emphasized that experimental pedagogy is a scientific phenomenon, the name of which reflects the main method of obtaining empirical knowledge — an experiment that was supposed to guarantee the objectivity of the data obtained, bringing pedagogy to the level of exact sciences; the concept of «experimental pedagogy» is established within the limits of historical–pedagogical discourse as a definition of the scientific phenomenon, characteristic only for the beginning of the XX century.
References
Bashkir, O. (2017). Mistse pedahohiky v systemi pedahohichnoi osvity Ukrainy v istorychnomu dyskursi ХІХ – pochatku ХХ st. [The Place of Pedagogics in the System of Pedagogical Education of Ukraine in the Historical Discourse of in the 19th – early 20th centuries]. Osvitolohichnyi dyskurs, 3–4 (18–19), 57–70. https://doi. org/10.28925/2312-5829.2017.3-4.570.
Kolomiiets, L. I. (2015). Shchodennykovi sposterezhennia yak metod doslidzhennia psykhichnoho rozvytku ditei v istorii eksperymentalnoi pedahohiky kintsia ХІХ – pochatku ХХ st. [Observation diary as a method of researching children's mental development in the history of experimental pedagogy of the late 19th – early 20th centuries]. Naukovyi visnyk Khersonskoho derzhavnoho universytetu: zbirnyk naukovykh prats. Psykholohichni nauky, 1 (1), 139–144.
Kuznetsova, N. V. &Kuznetsov, V. O. (2016). Rol uchenykh Odeskoho (Novorosiiskoho) universytetu u stanovlenni y rozvytku eksperymentalnoi psykholohii: M. Ya. Groth, M. M. Lange, G. I. Chelpanov [The role of scientists of the Odessa ( Novorossiysk) University in the formation and development of experimental psychology: M. Ya. Groth, M. M. Lange, G. I. Chelpanov]. Mizhnarodni Chelpanivski psykholoho-pedahohichni chytannia (pp. 7–20). Hnozis.
Marysova, L. I. (1959). H. I. Rossolimo yak psykholoh [Rossolimo as a psychologist]. In Narysy z istorii vitchyznianoi psykholohii kintsia ХІХ – pochatku ХХ st. (pp. 189–204).
Mikhno, O. (2019). Naukova kharakterolohiia Oleksandra Lazurskoho yak vnesok u metodyku skladannia kharakterystyky uchnia [ Scientific characterology by Olexandr Lazursky as a contribution to the pupil's characterization methodology]. Ridnashkola, 1, 53–60.
Nechaev, A. P. (1899). K voprosu o vzaimootnoshenii pedagogiki i psihologii [On the question of the relationship between pedagogy and psychology]. Russkaja shkola, 3, 45–51.
Nechaev, A. P. (1902). Ob organizacii psihologicheskih nabljudenij [About the organization of psychological observations]. Russkaja shkola, 2, 149–154.
Nechaev, A. P. (1911). Ocherk psihologii dlja vospitatelej i uchitelej [Psychology essay for educators and teachers]. Tipografiya P. P. Sojkina.
Nechaev, A. P. (1916). Kurs pedagogicheskoj psihologii dlja narodnyh uchitelej [The course of pedagogical psychology for the national teachers]. Tovarishestvo «V. V. Dumnov, nasledn. Bratev Salaevyh».
Pietukhova, I. O. (2013). Pohliady dorevoliutsiinykh doslidnykiv na psykholoho-pedahohichnu diahnostyku rozumovykh zdibnostei [The views of prerevolutionary researchers' psycho-pedagogical diagnosis of mental abilities]. Visnyk Luhanskoho natsionalnoho universytetu imeni Tarasa Shevchenka. Pedahohichni nauky, 10 (4), 297–303.
Romanov, A. A. (1996). A. P. Nechaev: u istokov jeksperimental'noj pedagogiki [A. P. Nechaev: at the origins of experimental pedagogy]. ROU.
Romanov, A. A. (2010). Vospitanie nravstvenno cennoj lichnosti (k 140-letiju so dnja rozhdenija A. P. Nechaeva) [The education of a morally valuable personality (on the 140th anniversary of the birth of A. P. Nechaev)]. Mir obrazovanija – obrazovanie v mire, 2, 44–51.
Rossolimo, G. I. (1897). Strah i vospitanie [Fear and education]. Voprosy nervno-psihicheskoj mediciny, 2, 593–607.
Rossolimo, G. I. (1906). Plan issledovanija detskoj dushi. Posobie dlja roditelej i pedagogov [Study plan of the child's soul. Manual for parents and teachers]. Tipolitografiya tovarishestva I. N. Kushnerevi K.
Rossolimo, G. I. (1910). Psihologicheskie profili. Chast' 1: Metodika [Psychological Profiles, Part 1: Methods]. Tipografiya M. A. Aleksandrova.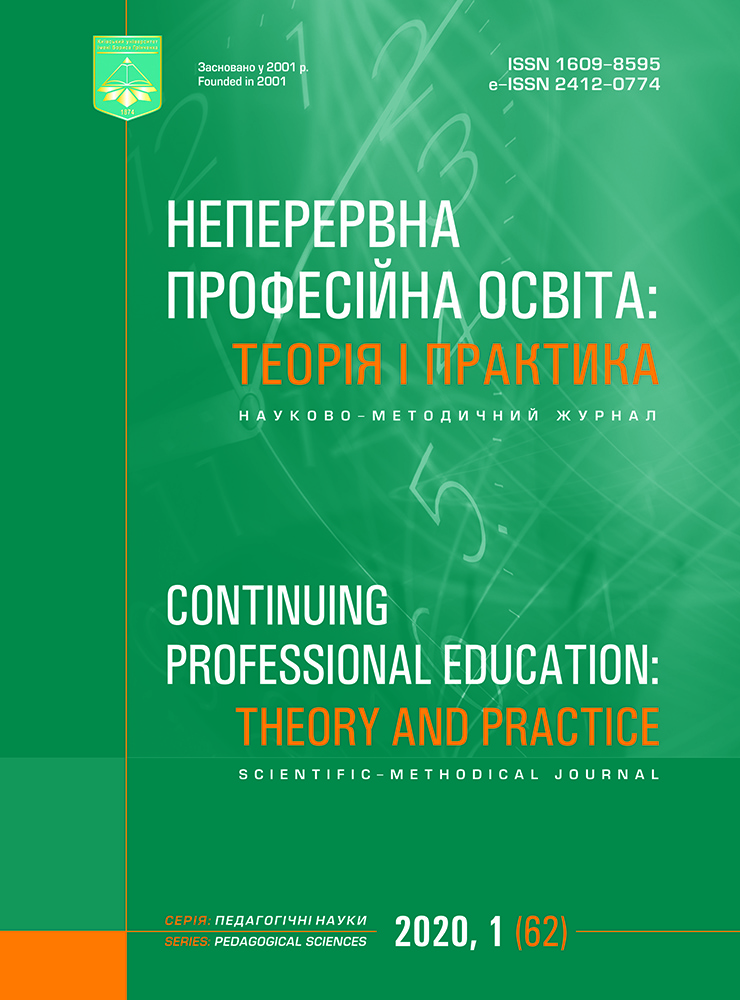 Downloads
How to Cite
Mikhno, O. (2020). CHARACTERISTIC OF A STUDENT IN EXPERIMENTAL PEDAGOGY BY O. NECHAEV AND G. ROSSOLIMO. Continuing Professional Education: Theory and Practice, (1), 61–67. https://doi.org/10.28925/1609-8595.2020.1.9
Section
PRACTICE OF CONTINUING PROFESSIONAL EDUCATION
License
Copyright (c) 2020 Oleksandr Mikhno
This work is licensed under a Creative Commons Attribution-NonCommercial 3.0 Unported License.

Licence Creative Commons Attribution-NonCommercial 3.0 Unported (CC BY-NC 3.0)